"Took 4 You" is part of a startup's business plan for deliveries to any and every type of restaurant.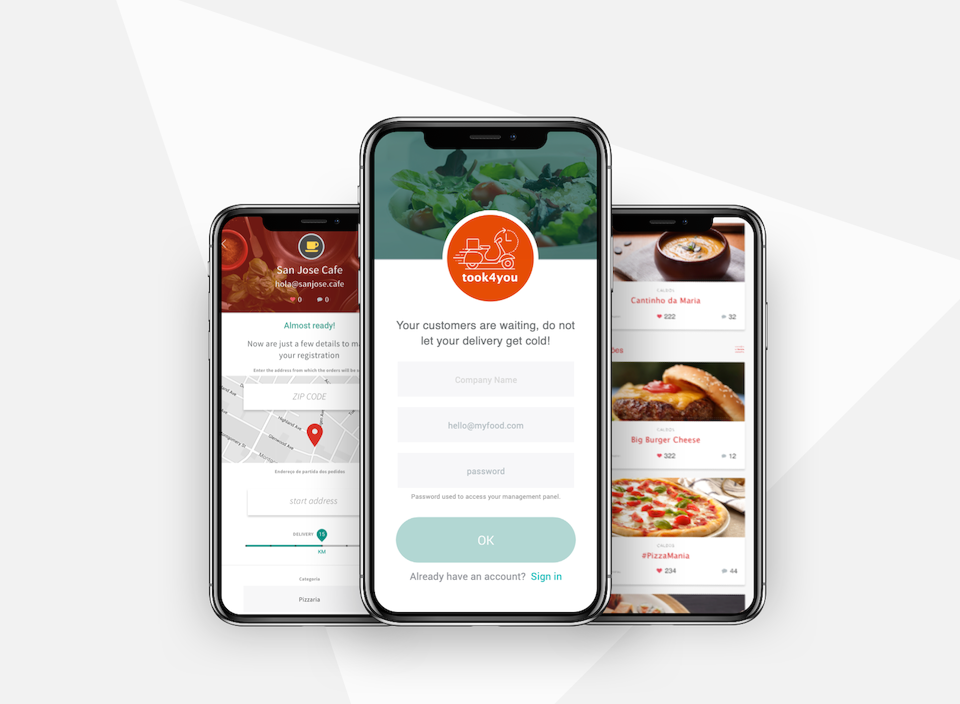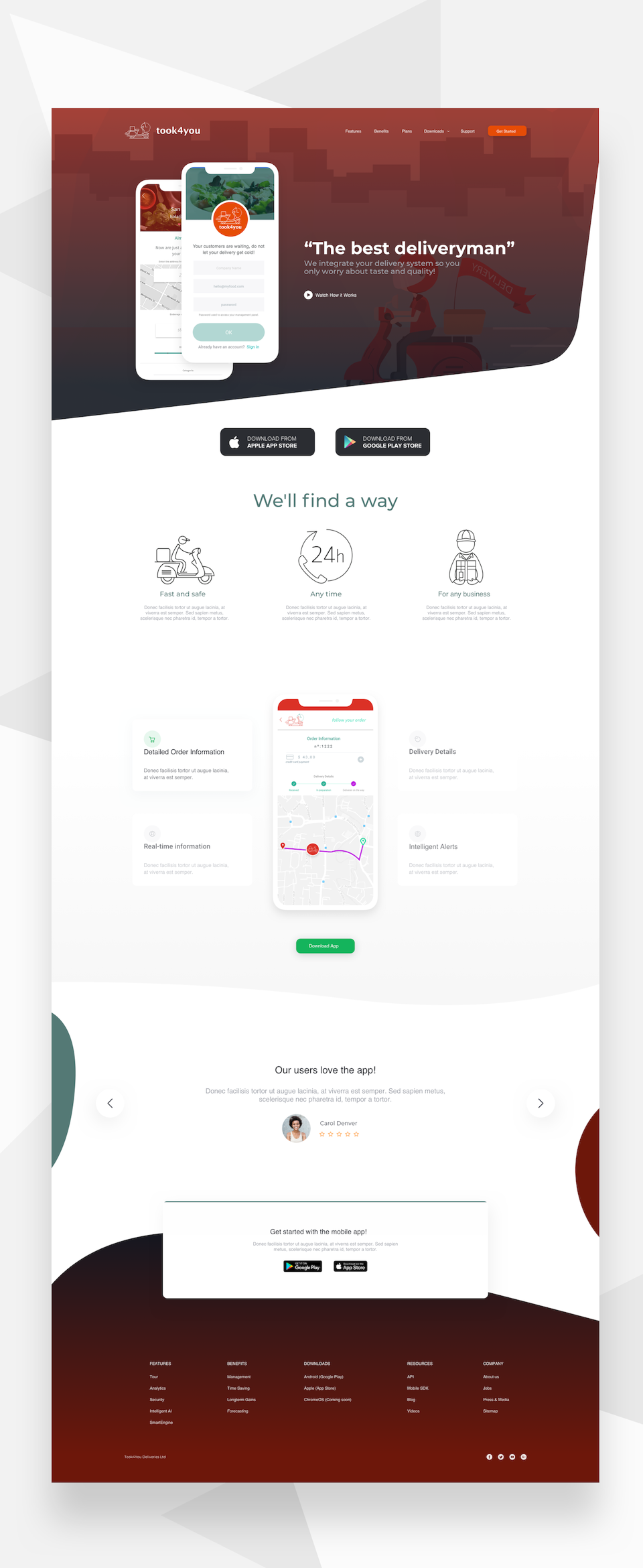 Lead gen Landing Page
This new business has suffered from attempts to get more partner restaurants to leverage its service and from this point open up business expansion possibilities for customers who order food through the application.
It was identified that the level of interest of users has already decreased the first contact.
From re-design, we plan the test.
ABOUT THE TEST
The test consists of releasing different versions of the same interaction interface to evaluate the best performance between two options.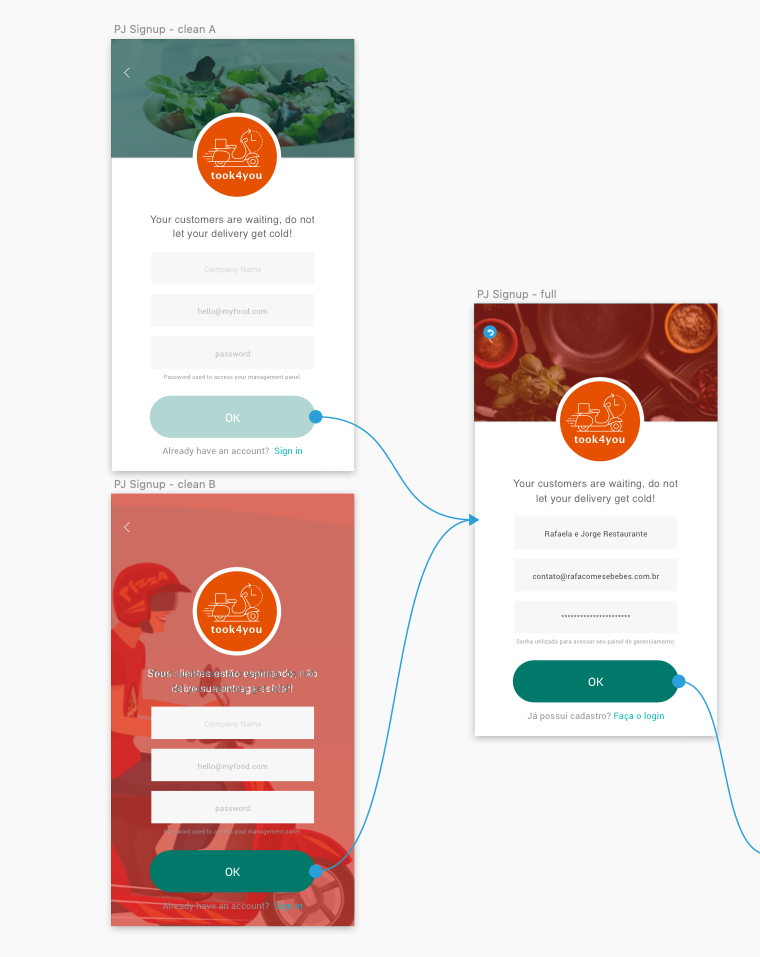 CRITERIA
For our case, two versions of the Legal Entity Register screen will be released.
Version A – Clean and elegant, the secondary colors of the brand (green) predominate.
Version B – Hot and relaxed, with background alluding to the delivery system. No changes to the form.
HYPOTHESIS
Today the dropout rate in the partner registration form is high compared to the current conversion: around 20% in relation to accesses.
The recommendation for the test is a sample of 280 users. Statistical Significance would be set at 95% in order to mitigate chance.
GOAL
Improve the completion of 50% of the restaurant form concerned to enrich the base of application delivery partners.
Julio, why this palette of colors?

The branding and app colors have been redefined to a more vibrant version.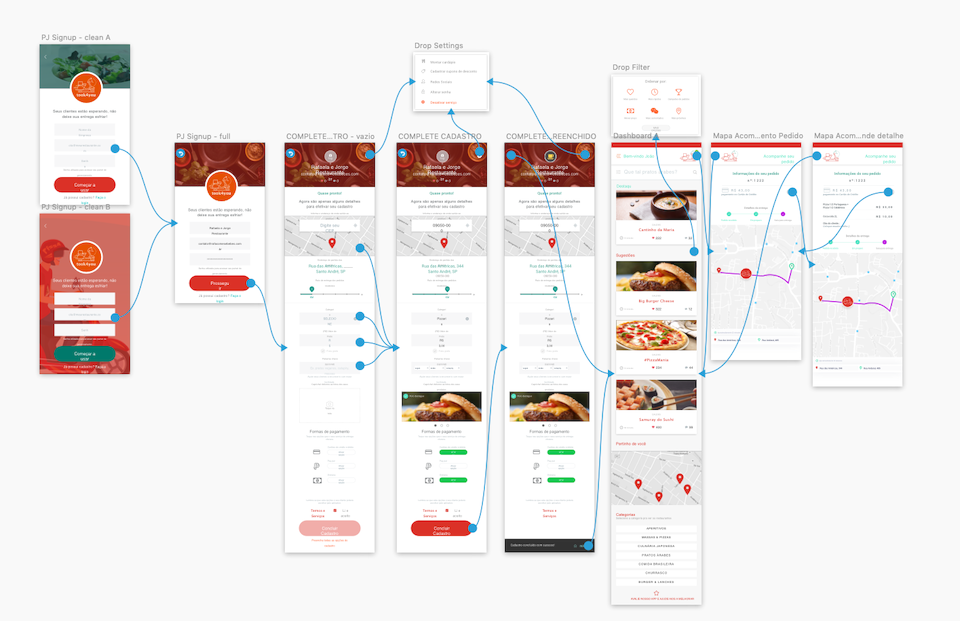 KPI
Key Performance Indicators
BRAND CONSCIOUSNESS
How often the app appears in search results on different platforms and social networks. Goal is to indicate keyword improvements, as well as redirect social media engagement campaigns.
MEASUREMENT OF USER INTERESTS
Separate downloads, installations and removal of the app for each version available, campaign performed and platform. By this way, measure the primary and secondary impact of delivered releases.
APP START PAGE WITHDRAWAL RATE
Measure the number of users who do not start using the app because they have not gone beyond the first screen. This metric helps in developing new A/B Tests, and other tests. The objective would be to try to prevent the withdrawal of the users conquered without having the least deepening of the proposal of the product.
TIME OF NAVIGATION AND ACTIVITIES
In particular, forms, seek improvement in the implementation of forms that encourage the enrichment of the base of companies available in the app. A funnel is also required to measure the average time spent in each section until the completion of the main activities.
DETENTION RATE
Check for waivers on key app tasks: PF registration and order completion (end user).
SEARCH VS NAVIGATION
Metrics to measure the efficiency of the organization of the app (Information Architecture), in the specific Dashboard, since the time spent searching for the desired (and sometimes unknown) items decreases the conversion rate